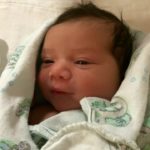 There's no reason to wait! You can attend our Baby and Toddler Music Class as soon as your little one is born.
Age of Students : 2 and under
Class Schedule : We have a new session starting every season!  Sign up for class below, or try a class: $15/family. The first class of each session is a Free Preview Class.
WINTER TWEES! 2018
Wednesday 10:30AM : January 10, 17, 24, 31, February 7, 14, 21, 28
Saturday 10:30AM : January 13, 20, 27, February 3, 10, 17, 24, March 3
8 Classes for $80
Scroll down to make a reservation for a free preview class!
Parent Participation : Required
Registration : NA
Cost:  Weekly Class – $80/8 classes + Book and CD ($10), Special Event pricing varies
Class Activities
Singing
Movement
Listening
Story Time
Imaginative Play
Rhythm Instruments
Exploring Musical Concepts
Attending our baby and toddler music class is an important first step toward giving your baby a head-start in music and in life.  Music class is a chance to engage your baby/toddler in a remarkable way because actively participating in music uniquely activates many parts of the brain at once.  The babies and toddlers listen, move, sing, interact with you and others, and play instruments all at once, causing many brain connections. Time is precious, don't miss your chance to enjoy music class with your little one.

Free Preview Class Reservations