"I've always wanted to play the piano…"
You need to try our adult piano course – Keyboard Encounters!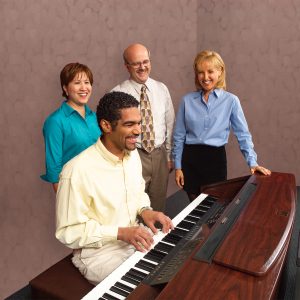 Keyboard Encounters is an innovative course of piano-style instruction where tradition and technology meet in harmony.
Geared towards people ten years of age or older, Keyboard Encounters places an emphasis on hands-on learning using the Yamaha Clavinova digital piano. This is an ideal setting to develop your musical creativity and confidence. Keyboard Encounters has proven successful in helping students of all ages learn to play and enjoy the piano.
How Long Will it Take Me to Learn How to Play?
You'll play simple pieces from the very first day!
In the weeks following the start of class you'll learn…
Songs in many exciting styles and genres, such as pop, classical, country, blues and jazz.
Fingerobics™ – Special keyboard excercises that develop finger dexterity.
Music reading, notation and theory.
Ensemble playing – group musical experiences that help develop your own playing skills.
How to plan and evaluate your progress.
How is the Course Taught?
Keyboard Encounters students are grouped according to age, musical background and goals.
You can enter this flexible course at any level, depending on your musical experience. Your teacher has been trained by Yamaha to work with students of all ages and abilities, and can help you decide which level to join.